Measurabl is your primary tool to help you prepare to report to organizations like GRESB and CDP! Our platform uniquely positions you to report efficiently and maximize your scores - All you have to do is maintain your portfolio's utility and non-utility data!


Helpful hints to ensure that your data is report-ready:
 Review utility data and metrics in Measurabl and address potential issues
Break down your energy, water, waste and carbon usage for selected time periods and sites.

Export your

Data Quality Report

to review granular site-level data and check for potential issues.
Check on your data quality alerts and Activity Log
Take advantage of Measurabl's automated

Data Quality Alerts

to view energy/water/waste/cost intensity outliers and year-over-year changes

Utilize the Activity Log widget on the "Portfolio Overview" tab to track data quality alerts, ENERGY STAR score changes, certifications, and Utility Sync issues.

 
Resolve Utility Sync Issues
To view Utility Sync Issues per Site:

Click on the "Utility Sync" tab.

Verify you're on the "Real Estate" page.

Filter the "Status" field to select status issues you'd like to check on across your sites (for example: No Accounts, Has Issues, Some Accounts Pending).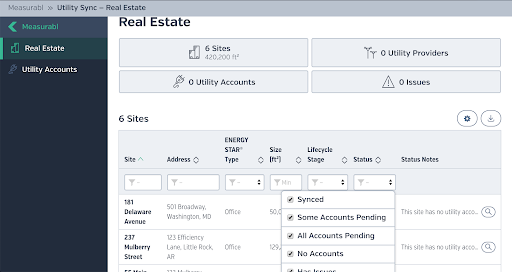 Utilize our Measurabl Peer Benchmark!
We provide you with a peer benchmark calculation to help you efficiently benchmark your site's performance against sites just like it!
To learn how your sites' Peer Benchmark is calculated, check out this guide.
How to View your Site's Benchmark:
Click on your site on the "Sites" tab to reach the "Site Overview" tab.

View the site's Measurabl Peer Benchmark score next to the site name (within the green scale icon) and in the box below the site's timeline (if the Peer Benchmark widget is enabled).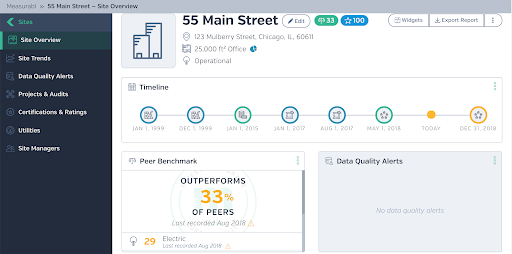 For more information on your Portfolio's overall data health, GRESB and other report scoring, please reach out to us here.