Users can track both purchased (offsite) and generated (onsite) renewable electricity. Other energy types like biofuel are not currently available. This table covers where to enter your renewable electricity data, and we provide details on each approach below.
| | | |
| --- | --- | --- |
| Renewable Electricity Type | Site Source | Where to Enter Data? |
| Onsite |   | |
| Onsite | | |
| Offsite |   | |
| Offsite |   | |
Onsite Renewable Electricity for ENERGY STAR Sites
These short ENERGY STAR help articles: Part 1, Part 2, and Part 3; walk you through the process of adding onsite renewable electricity meters within ENERGY STAR Portfolio Manager. Once you've added the data in ENERGY STAR, request a refresh in Measurabl's "Sites" tab to pull that data into Measurabl.
Onsite Renewable Electricity for Manual Sites
For manual sites, you'll enter these meters in Measurabl. Head to the site where you'd like to add the meter, and select the "Utilities" tab. Ensure that the "Energy" button is selected on the right of the screen, then click the green "+" button to the right of the "On-site Renewable Electric" header.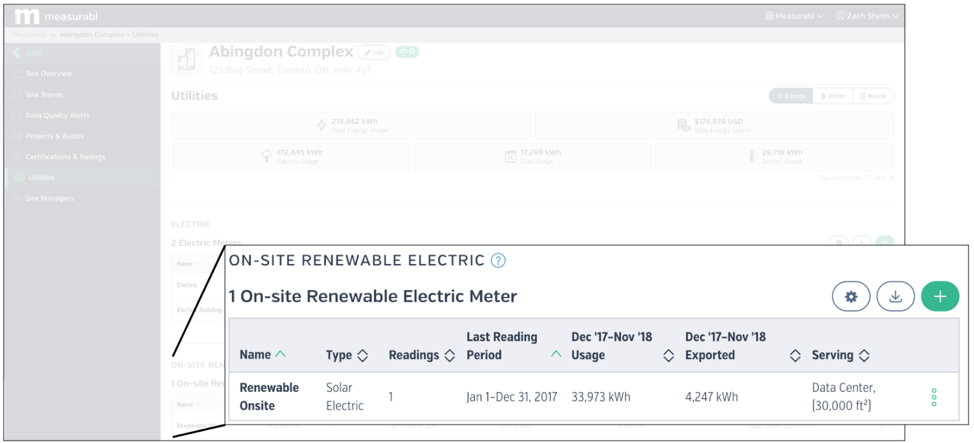 You'll add basic meter information including name, type (Solar or Wind), units, and tracking instrument (more info here). You'll also assign the meter to a space.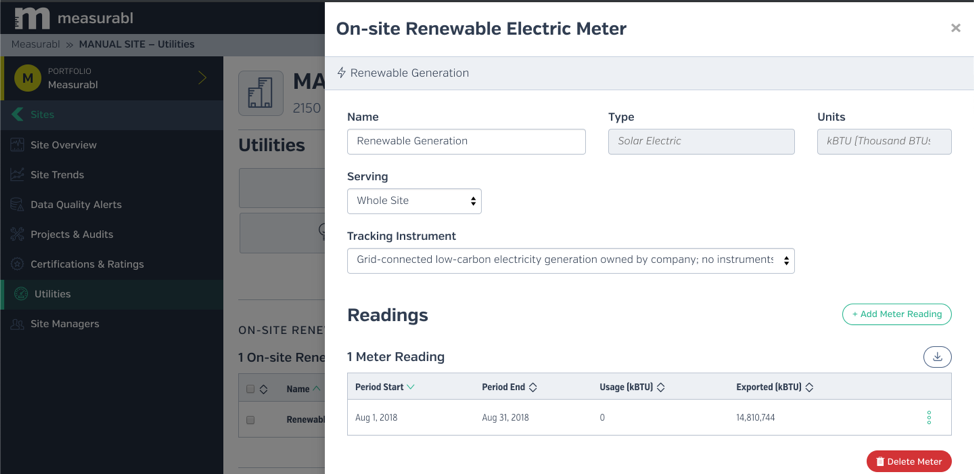 You'll then add meter readings, either manually in the app or in bulk via spreadsheet upload. For each meter reading, you'll enter both the usage (the amount of generated electricity used onsite) and the amount exported (the amount of generated electricity sent back to the grid).

There is no cost field for onsite renewable electricity because there are no purchases involved.
Off-site Renewable Electricity (for ENERGY STAR and Manual Sites)
Whether you're creating a new offsite renewable electric meter or flagging an existing electric meter as off-site renewable, the process is similar. You'll simply toggle the "Off-site Renewable" radio buton from "No" to "Yes" within the electric meter information window in Measurabl. Doing so will designate all of the meter's consumption as off-site renewable.

Off-site renewable electricity meters remain in the Electric meter section, but get a nifty little 'leaf' icon to indicate that they are renewable.