Parking area is not factored into energy, water, carbon, and waste intensity metrics, either in Measurabl or in ENERGY STAR. This is because parking area has significantly different usage patterns than the rest of a site, with a large floor area that can skew intensity metrics.
In the "Spaces" tab of the "Site Profile", Measurabl pulls in parking spaces from ENERGY STAR as line items in the "Leasable Space" section, alongside the other spaces from ENERGY STAR.
However, we assign all parking area zero square feet. We do this so that parking floor area cannot skew the calculation of intensity metrics that depend on the floor area of a site's leasable spaces.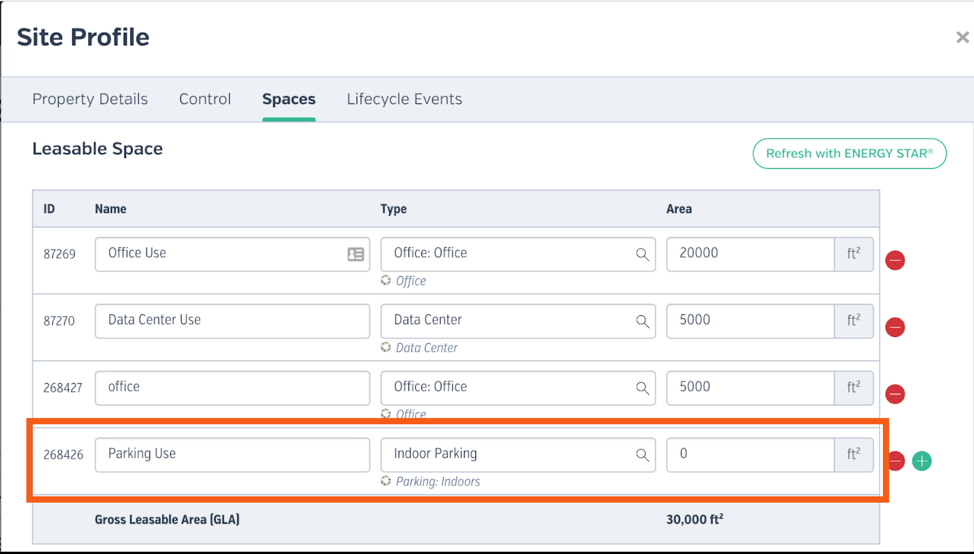 We are actively working on a feature update to pull parking floor area totals from ENERGY STAR for all types of parking (completely enclosed, partially enclosed, open). When we do that, we will pull parking data from ENERGY STAR into a new "Parking Area" section of the "Spaces" tab. This parking area section will not be factored into intensity metrics and will be separate from both "Leasable Space" and "Common Areas."
Until then, you can review and update the floor area of your site's parking spaces within ENERGY STAR.