If you're trying to enroll a Utility Sync account and don't find the utility provider already in Measurabl, you are able to add a new provider to our system. Once you request the new provider in Measurabl, our Support Team will follow up with you within 24 hours with next steps.


Steps to add a new utility provider in Measurabl:
Navigate to the Utility Sync tab

Search for your property

Click "Add Utility Provider" button (for offline or online)

Type the Utility Provider's name in

If "Provider not found

"

message appears below the drop-down box, click

"+request a provider"




Fill out required information: Provider name, Password, Security Question (if applicable), Account Number(s), Utility Bill(s) and click

"Send Request" in the upper right corner of the page.
Please be sure to fill out all required fields, represented by an asterisk. The 'send request' button will update to green when all required fields are filled.
Note: For OFFLINE accounts, put 'N/A' in the username/password cells.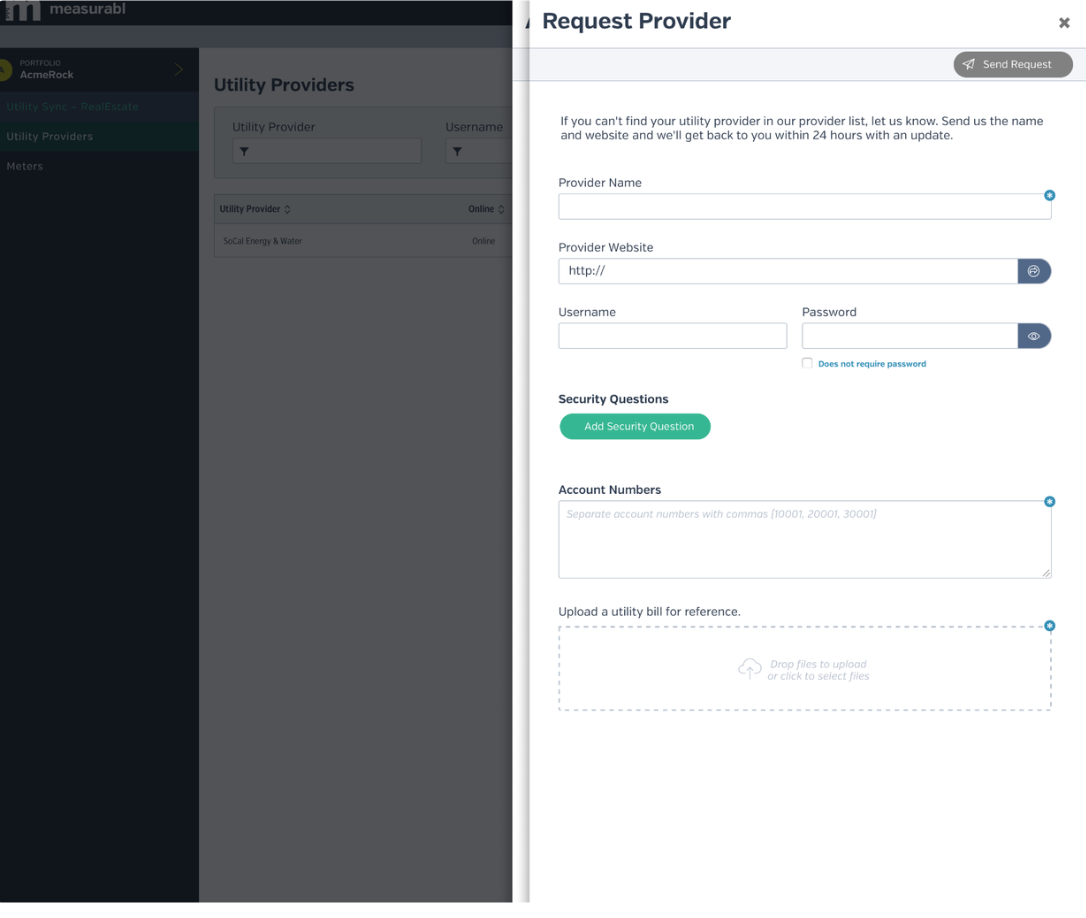 Unfortunately, in some cases we may not support certain utility providers, and we will not be able to add them into Measurabl. There are two cases that could classify an unsupported provider:
- CAPTCHA/RE-CAPTCHA: This is an acronym for Completely Automated Public Turing test to tell Computers and Humans Apart (RE-CAPTCHA is just a free CAPTCHA service provided by Google). This prevents automation on our end, and therefore we can not use Utility Sync with this provider.
- INFRA: This also prevents our connection to the portal, but not necessarily for CAPTCHA related reasons.


If you experience any trouble with this process please email us as support@measurabl.com. Our Support Team will reach out to you within 24 hours to follow-up on your request.