Your team members can't get started without clicking the link in their invitation email. When you invite a team member to join as a portfolio/subgroup member or site manager, you trigger an invitation email sent from support@measurabl.com.
If anyone doesn't receive your invitation email, you can resend the invitation. They can resend it too, following the steps below.
Resend invitation to another user
Select the "Users" tab and find the user who hasn't received their invite. If you've got a long list of users, filter the "Invitation Status" column to "Pending".

When you find the user you want to invite, select the "Resend Invitation" link in the "Last Activity" column to resend the invitation email. You'll immediately see a popup within the app confirming that an invitation email has been resent to that user.
Resend your own invitation
You can also resend your own invitation from the app's login page after entering your email address and attempting to login.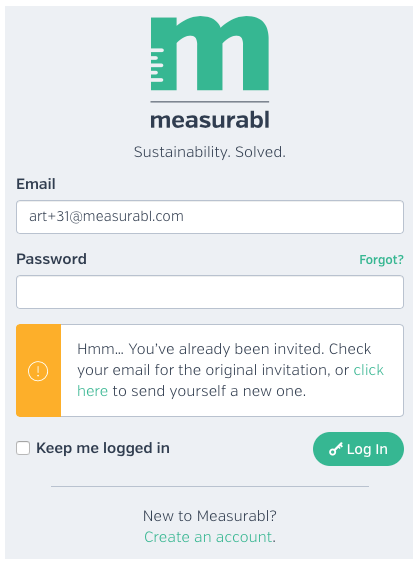 Each invitation email has a unique link, so once you resend an invitation email, the previous invitation email's link will no longer work.
When resending invites to others, it's a good idea to let your team member know that you've resent the invitation email so they know to check their inbox, or even their Junk or Trash folders.
Note: you won't be able to resend an invitation to the same user for the same portfolio/subgroup/site more than once within five minutes. We've created this buffer to make sure multiple emails aren't sent to the same person in error.