Does GRESB want me to report on major renovation projects and buildings under construction?
Yes, all portfolio assets should be included in your report. The new construction module allows further detailing of new construction and major renovation activities. Further, buildings under construction or renovation will not be included in like-for-like comparisons, but will accrue to absolute performance.
Set the life-cycle stage on your site and your sites will be rolled up correctly accordingly. 
How should I handle the purchase and selling of assets?
Add bought and sold dates directly to sites in Measurabl, learn how here. 
Measurabl automatically identifies buildings eligible for like-for-like comparison — 24 months of data coverage with no less than 10 months of data in a given calendar year.
What is the difference between like-for-like and absolute performance?
Like-for-like is a comparative measure of performance — evaluating a building's change in environmental performance from year to year.
Absolute performance on the other hand is a stand alone measurement aimed at evaluating total consumption and output across performance indicators.
How do I mark a site indirectly managed? 
1. Go to the Data page, click on a site 
2. Click the Profile section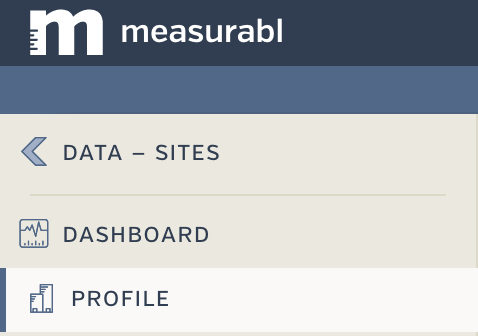 3. Mark "% Gross Leasable Area" = 100 and "Tenancy" = Single Tenant 

4. Click save! 
The site is marked indirectly managed.
How to tell Measurabl what part of your building a meter serves? 
Once inside a building, click on its "Usage" tab. You'll see your utility meters broken out by type e.g. electric, fuel, water.
For each type of utility, you can set a meter "Whole site" or "Common & Tenant Spaces".
Now, click on a meter and select the correct type of service from the dropdown menu labeled "Serving". Your options are "common area", "tenant paid by landlord", "tenant paid by tenant".