Maintaining accurate space data within your sites helps tell the story of your sites' sustainability performance. Knowing that an office has a data center and a large restaurant may explain why its energy use intensity is higher than a nearby office without those two spaces.
Regularly updating space data is especially important for sites with multiple uses or regular tenant turnover.
You can make changes to spaces within Measurabl directly or within ENERGY STAR.
ENERGY STAR
Right now, space data can be pushed from ENERGY STAR to Measurabl, but not from Measurabl to ENERGY STAR. So if you want your space data updates to appear in ENERGY STAR, it's most efficient to make those changes directly in ENERGY STAR. Measurabl will then pull in your changes automatically. This article provides guidance on this option.
Measurabl
If you'd prefer to make changes to spaces directly in Measurabl, and you don't need those changes made in ENERGY STAR, you can do so in the Spaces tab in the Site Profile window. First, click "Edit" next to the site name on the "Site Overview" tab.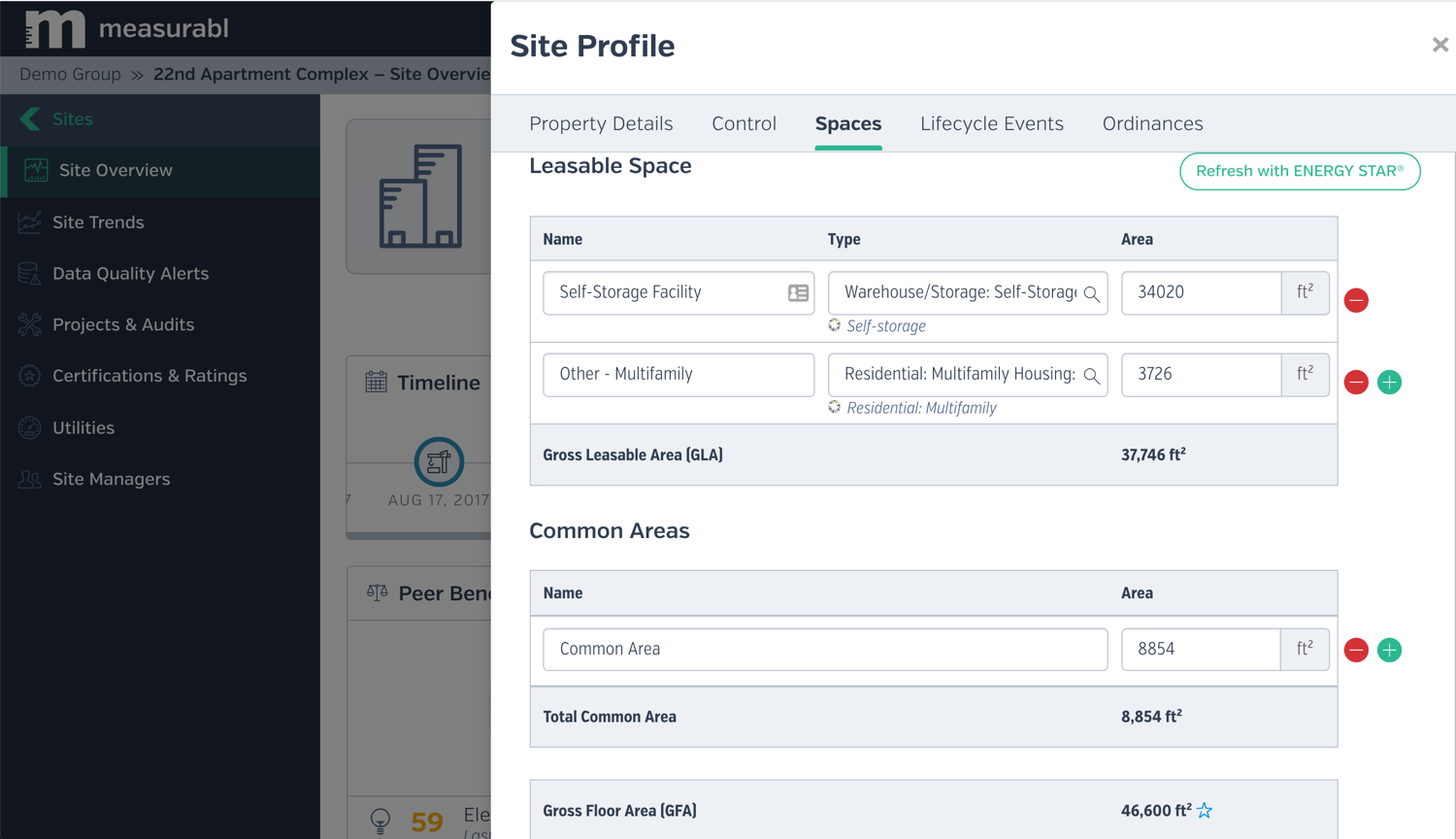 In the Spaces tab you can add and remove spaces, change their type, and edit their floor area. You can also track leasable spaces and common spaces separately.
When making changes to spaces imported from ENERGY STAR, you'll stop that site's space data from syncing with ENERGY STAR (syncing of all other site and utility data for your sites will continue uninterrupted). This break prevents the changes you're making from being automatically overwritten with the values in ENERGY STAR.

At any time after making those changes, you can resync your site's space data with ENERGY STAR. Before doing so, it's best to make sure that any necessary changes were also made in ENERGY STAR.