New to Measurabl and still getting a feel of the app? Our team put this guide together to help you learn how to best utilize Measurabl's functionality and ensure you know all the "in's and outs" of the application!
Measurabl's sleek interface paired with the inspector breakout approach makes your experience as a user simple and streamlined. Follow the guide below to get started!


Measurabl's interface is divided into 4 main areas:
Sidebar navigation:

here you can access any of your "tabs" within your portfolio(s) or sites that you manage.






Left inspector: allows you to navigate from one portfolio or subgroup to another. This is especially useful for portfolio managers and members who may oversee multiple portfolios.




Profile Drop-Down: a quick way to access your user profile and make any preferred changes.




"Help" Button: provides instant access to self-service materials for support (help guides, instant link to our Knowledge Base, and quick way to contact our Support Team). Go to this guide for more information about utilizing the Help button!




These design aspects of the app's user interface (UI) is uniform throughout the application - no matter what page you're on, you'll always have the ability to steer through each page you're looking for!
Navigating the "My Profile" View
From within your "My Profile" view, you can update your personal profile settings and preferences. This includes selecting your preferred currency, units of measurement (for energy, water, and waste) and floor space measurement type (meters/square feet).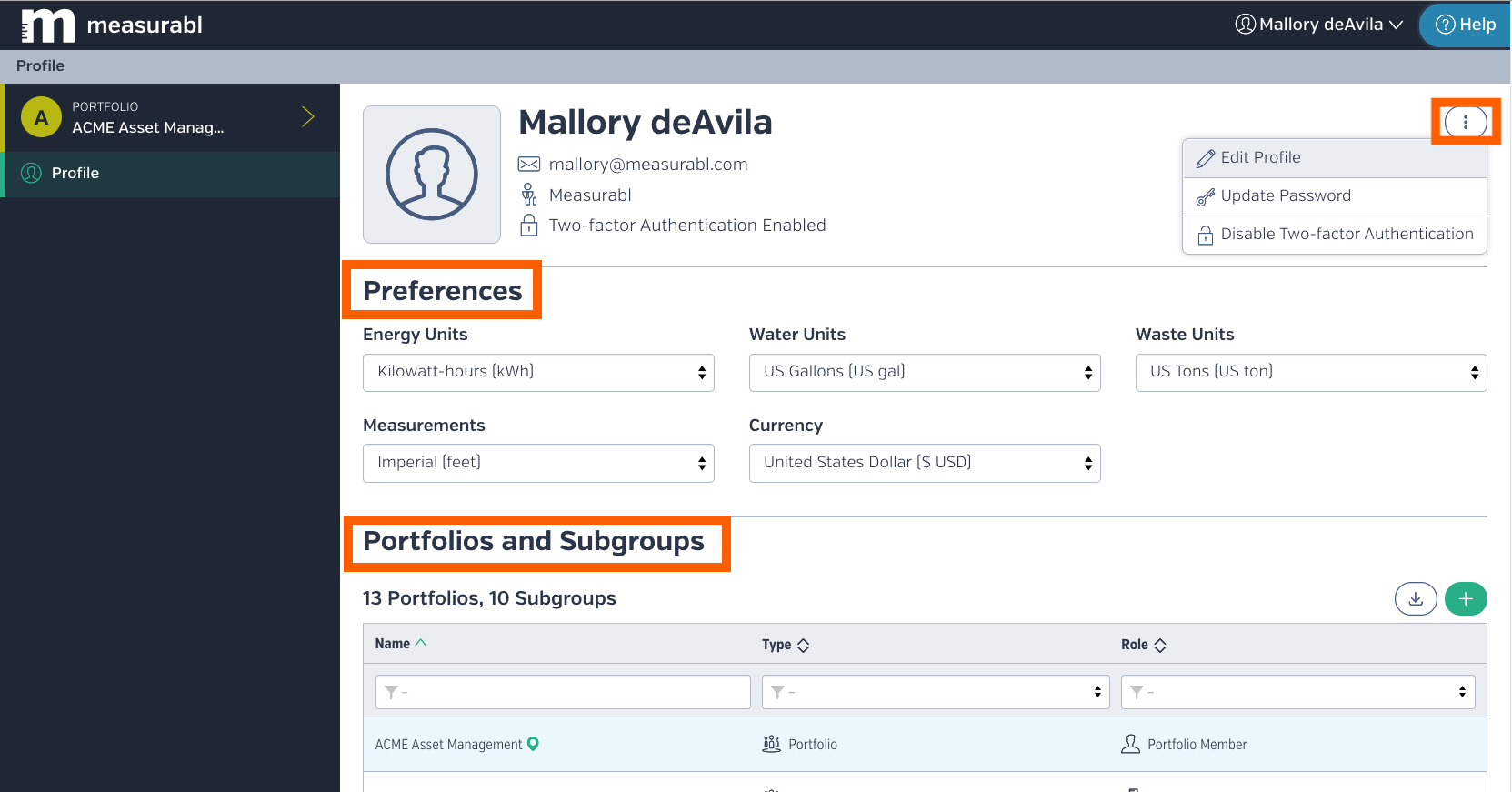 By selecting the ellipses (...) next to your name, you may update your email, name, password, and security settings.
From here, you can also go to your portfolios that you are a member of in Measurabl under the "Portfolios and Subgroups" section. Just scroll down and select the portfolio to go to its profile.
To learn more about navigating Measurabl's interface for your specified role, follow these guides below:
- Site Manager Navigation
- Portfolio Manager & Member Navigation
If you have any further questions about navigating the Measurabl app, feel free to contact our Support Team.