Once you've accepted your email invitation to Measurabl. You can begin adding and/or reviewing data for your properties! If you notice that there are some additional properties that should be in your profile, but don't see them, please reach out to support@measurabl.com noting the property name & address that you need to be given access to.

These steps below are suggested information you can add, however please keep in mind that the manager of Measurabl on your team may require additional information to be entered.

NOTE: If you need some more context on how to use the navigation tools in Measurabl, please see here. If you need an in depth explanation of how to use Measurabl, please either sign up or view a past site manager webinar.
ENTERING SITE DETAILS
To add or review the site details of a property, click on the 'Sites' tab on the left navigation bar.
Click on the desired property.
Click on the 'Edit' button next to the property name > The 'Site Profile' page will pop up, and you can navigate through the tabs to enter in the following information:

Property Details: Address, Building Class, Year Built and Custom ID (last two optional)
Control: Ownership, Tenancy, Occupancy Readings
Spaces: Property Type(s) & spaces (floor area and leasable vs common area)
Lifecycle Events: Bought/Sold, Initial Construction, Major Renovation, Appraisal.
Ordinances: Local regulations based on your site's location.

ADDING PROJECTS & AUDITS
Please follow this guide on how to add Projects & Audits.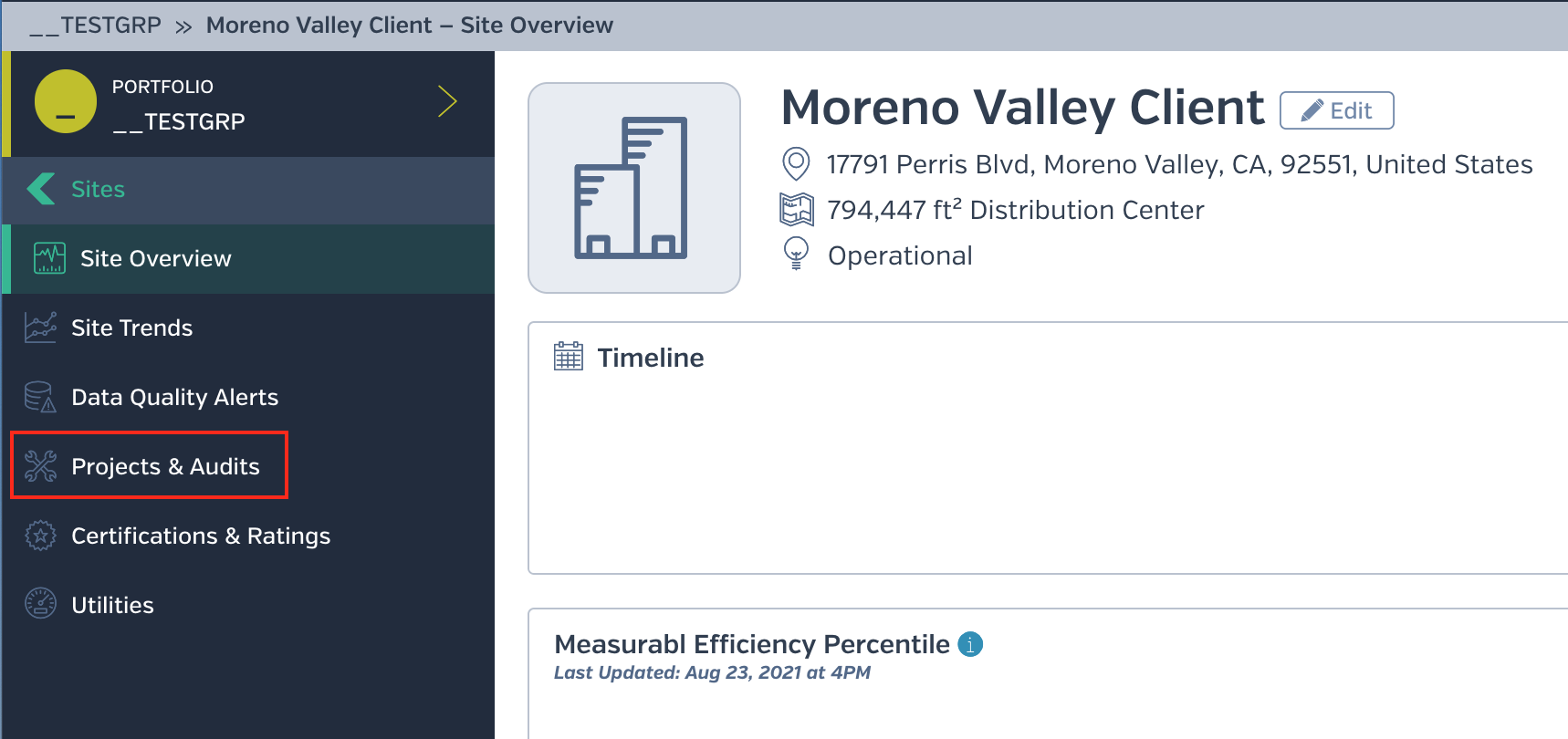 ADDING CERTIFICATIONS & RATINGS
Measurabl automatically pulls in certifications and ratings from LEED, BREEAM, and ENERGY STAR®, based on the exact address you have entered in Measurabl for your property - You can either accept or deny these certifications or ratings. If you have other certifications or ratings that haven't been automatically pulled in, you can manually add them.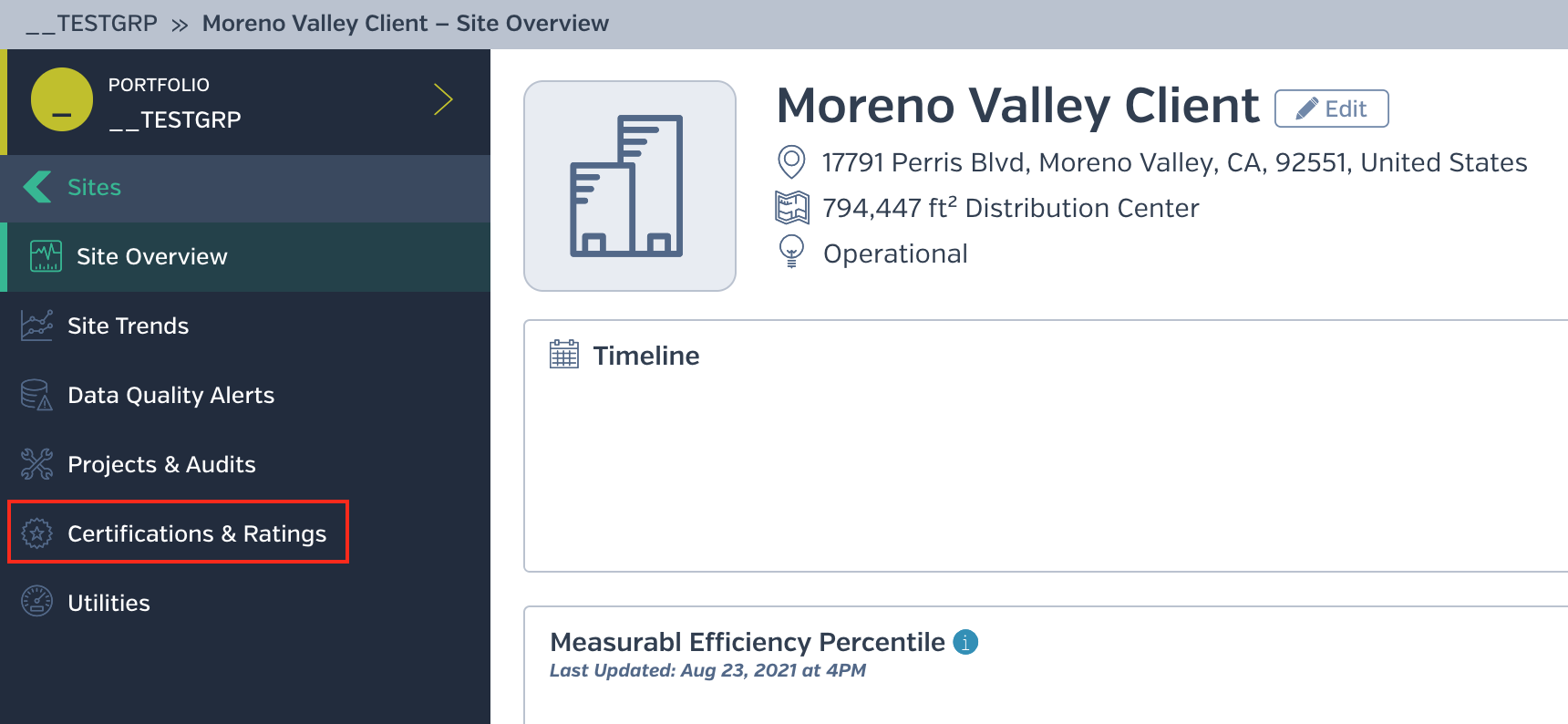 Accepting Automated Certifications & Ratings:
Click the 'Sites' tab > Click on the desired property.
Click on the 'Certifications & Ratings' tab. Any unconfirmed certifications will be highlighted.
Review the imported certification(s) within the table to confirm that the information is correct.
Click on the imported certification.
Click 'Accept; to confirm it. If it is invalid or for a different site, click "Reject" (EX// If the name or address does not match).
ADDING UTILITY DATA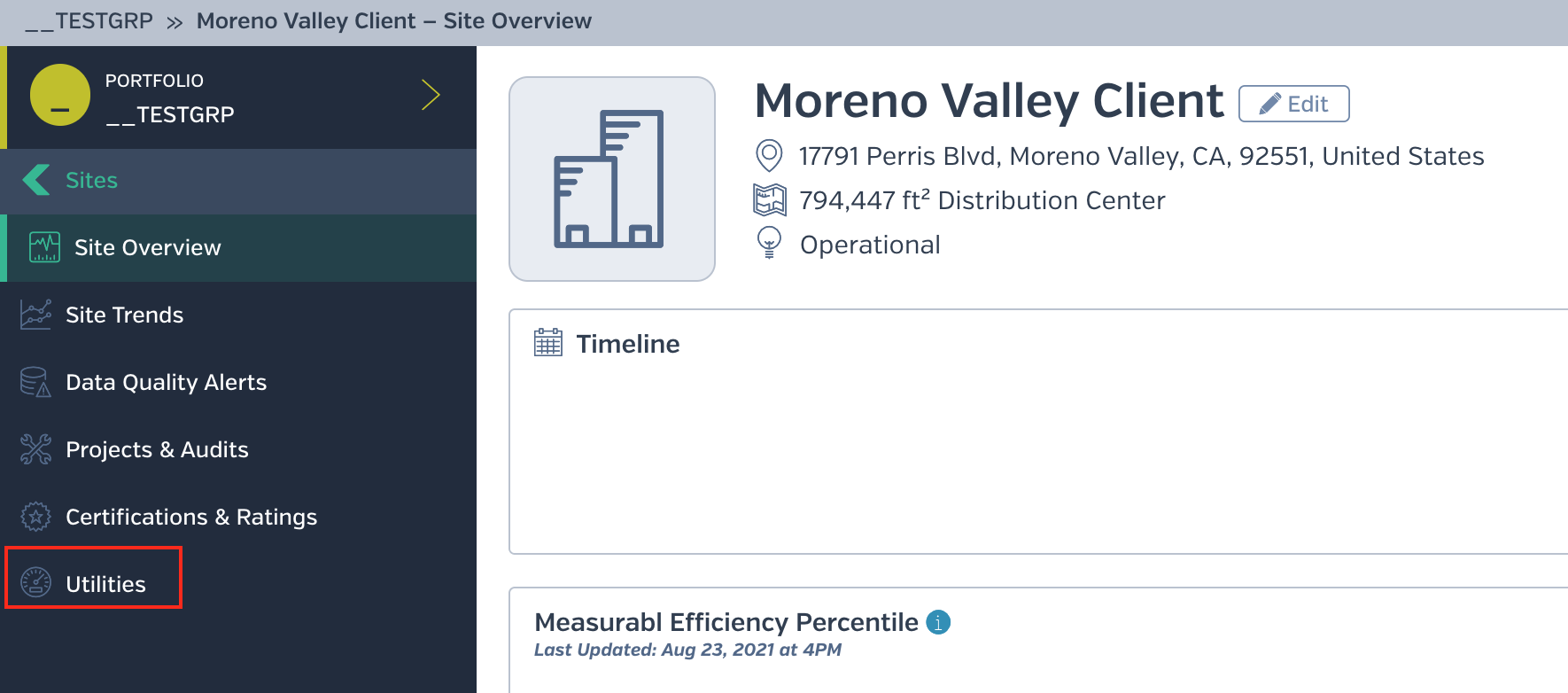 There are 2 ways that utility data can be entered into Measurabl: Manually or via Utility Sync.

Utility Sync is the preferred option because there is less time/effort required on your end, and it is more accurate since there is less room for human error. Here's how you can set up set up Utility Sync at your property(s). Please note that there are 2 types, Manual Bill Uploads and Sync Bills from Utility Provider.
If there is utility data already entered into your property...
Firstly, make note of which method of data entry it is (either manual data entry or either version of Utility Sync).
Note that all Utility Sync meters are automatically named in the following format:
MSR.(provider)(account number):(meter number)

If it is a manual meter, you (or someone on your team) will have to periodically keep the meter up to date in Measurabl, since it is not automated.
If it is a manual bill upload Utility Sync meter, you will have to periodically upload the PDF bills into Measurabl to keep the meters updated or to fill any gaps in the data.
If it is a synced bill from provider Utility Sync meter, no further action is required. Just be sure that your login credentials stay up to date, and Measurabl does the rest!
NOTE: If you notice any issue alerts on your Utility Sync meters, please see here on how to resolve them.
INVITE OTHER USERS TO COLLABORATE IN MEASURABL
If you need someone on your team to have access to a property, please reach out to support@measurabl.com noting which property (name & address) they need to be added to.