Measurabl sends out bi-weekly issue emails to alert you of Utility Sync issues at your property that need addressing. See bottom of this page for specifics on how to resolve each Utility Sync issue.
How to identify your property(s) Utility Sync issue(s):
Head to the the Utility Sync tab.
Go to the "Utility Accounts" page
Filter the "Status" column for "Has Issue" to see a detailed list of each Utility Sync account affected by an issue and the nature of the issue.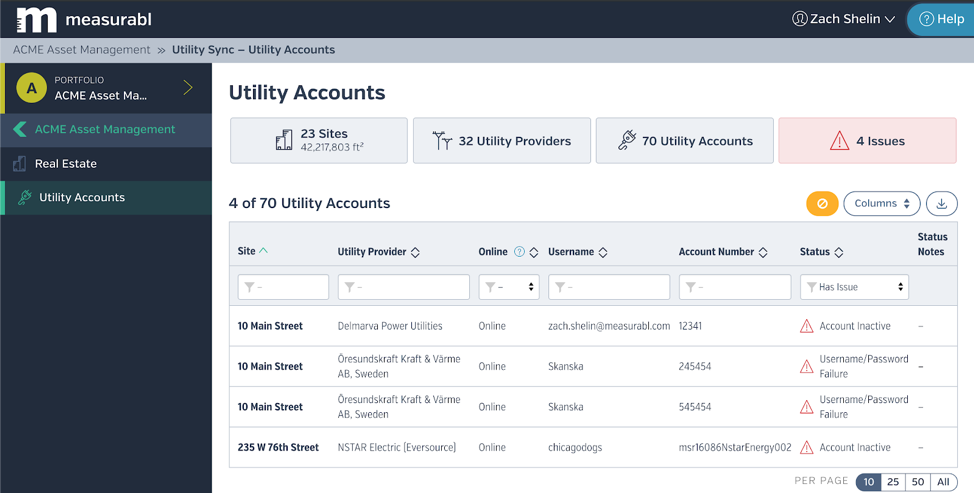 Select one of the listed accounts to access the utility provider page to begin updating the utility account information in Measurabl.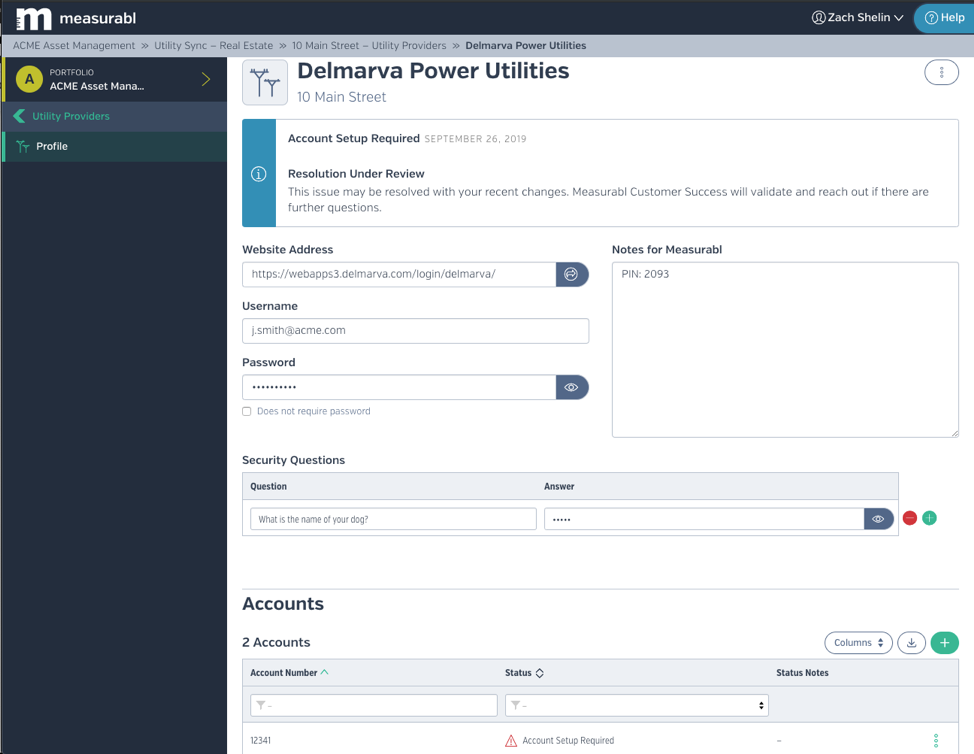 Utility Sync Issue Summaries & How to Resolve Them
Username/Password Failure

: A username, password, and service provider portal URL must be provided for all

online

Utility Sync accounts, so that we are able to access the listed utility accounts. If the username, password and/or website URL for the service provider are incorrect - we will be unable to gain access to the utility portal account. Therefore, a Username/Password Failure issue is added in Utility Sync.

Missing Security Answers

: Sometimes utility portals require their users have secondary authentication, such as security questions. If a customer has a portal account that is protected by security questions, Measurabl will need those security questions and their associated answers to access the account. If we try to access a portal account and are greeted by security questions to which we have no answers, a Missing Security Answers issue is applied.

Account Setup Required

: This issue is typically reserved for situations where action of an administrative/account management nature is required of the account owner that does not fall under one of the other issues. For instance, if we try to log into a portal account, but then we are greeted with a message that says the portal account requires a

password update

or

verification of the e-mail

address on file before continuing, we would apply an Account Setup Required issue. Anything involving portal account management that does not already have a more specific issue in Utility Sync will typically fall under this issue.
Account Not Found: This is one of the most common issue types that occurs with Utility Sync. If we log into a utility portal account, and are unable to find any record of the account number that is listed in Measurabl, then that account number will have an Account Not Found flag.

E-Bill Enrollment Required

: This issue applies when an

online portal account

doesn't have any bills available because they have not enabled electronic billing. If the portal account has some sort of electronic billing option that is

not

enabled, and there are no bills available, we add an E-Bill Enrollment Required issue. Secondly, if a portal account does have an electronic billing option, and that electronic billing option does appear to be selected, but bills are still

not available

, we will still add an E-Bill Enrollment Required issue (or maintain the current E-bill issue), and we will not resolve that issue until bills become available. In very rare cases, we may discover that there are no bills available, and there does not appear to be any way to opt into electronic billing. In essence, this issue simply signifies that no physical bills are available, and that problem can normally be resolved by some sort of electronic billing enrollment.

Account Inactive

: Generally, this flag is used when accounts that were receiving bills, stop receiving bills. Some utility portals will explicitly mark that accounts are no longer active/are inactive. When active accounts go dormant, they will receive an Account Inactive issue.

Unsupported Provider

: The Unsupported Provider issue is primarily reserved for two specific cases: CAPTCHA/RE-CAPTCHA, and INFRA issues. These are deployed to stop the automation of certain tasks, which interferes with our access to the online utility portal. In this case, we will add an Unsupported Provider issue. You can either add a new utility provider or request a new utility provider to be added in Measurabl.



Invalid Bill

: The Invalid Bill issue is exclusive to

offline

accounts. Sometimes, bills are uploaded with incorrect/lacking information such as not containing usage, missing key data points, or simply they are difficult to read and/or illegible. When this happens, the specific bills that are invalid are marked, and the provider receives an Invalid Bill issue. To learn more about what is required from your bills, and how to upload them, please refer to this article.