Tired of manually collecting utility data? No problem, Measurabl automates it all for a single site or a whole portfolio. Get rid of the headache and get results.
HOW IT WORKS
With Utility Sync, Measurabl can collect data directly from your utility provider, and push the data to your Measurabl and ENERGY STAR accounts automatically. Set up Utility Sync for your portfolio and say goodbye to manual entry in just a few minutes.
ADD UTILITY ACCOUNT(S):
Navigate to the Utility Sync tab.

Click the site where you'd like to automate data. Sites with the "+ No Accounts" Status have no utility accounts activated.
Select "Add Utility Provider."

Add utility provider credentials.

Complete steps 4 & 5 for each utility provider at the site.
WHAT IS REQUIRED TO SETUP ONLINE UTILITY SYNC:
Utility Provider name.
Utility Provider's online portal website address.
Username/password (if required to access online portal).
Utility Account number(s).
UTILITY SYNC METERS IN ENERGY STAR:
New "meters" will be created in ENERGY STAR for each automated utility account and meter.
Utility Sync meter names will always begin with "MSR."
Measurabl will set the deactivation date of all current meters in ENERGY STAR to the start date of the "MSR" meters. This will prevent overlapping data. If a meter should remain on, please email Measurabl!
If you're not able to push data directly from your online utility portal to Measurabl, you can still use offline Utility Sync to eliminate manual data entry. Learn more here.
COMMON QUESTIONS
What data does Utility Sync push to my Measurabl and ENERGY STAR account?
Bill start and end dates
Utility usage and total cost
Demand (kw) and demand cost (electric meters only)
Tell me more about Electric Demand tracking?
When demand is available on the bill, Measurabl auto-populates demand and demand cost into the electric meter in ENERGY STAR Portfolio Manager. Check out this ENERGY STAR guide to learn more about demand tracking.
I received an email about a Utility Sync issue. How do I fix it?
Measurabl notifies you via email if there's a problem with Utility Sync. Clicking the icon in the email will take you straight to your account's Utility Sync tab so that you can see which accounts have issues.
Outside of those emails, you can check the status of your accounts at any time by logging into Measurabl and looking at the "Status" column on your Utility Sync page. Here's a short article on how to fix the most common issues.
One of my utility accounts is now inactive, what should I do?
If you have a new account number, click "+ Add Accounts" to add the new account number before completing the next steps.
Find the inactive account by clicking the site with the affected account in the Utility Sync tab, clicking the affected utility provider on the resulting page, then scrolling down to find the affected account. From there, you can click the ellipsis (...) in the far-right column and deactivate the affected account. You can also deactivate the provider by clicking a similar icon at the top of the page.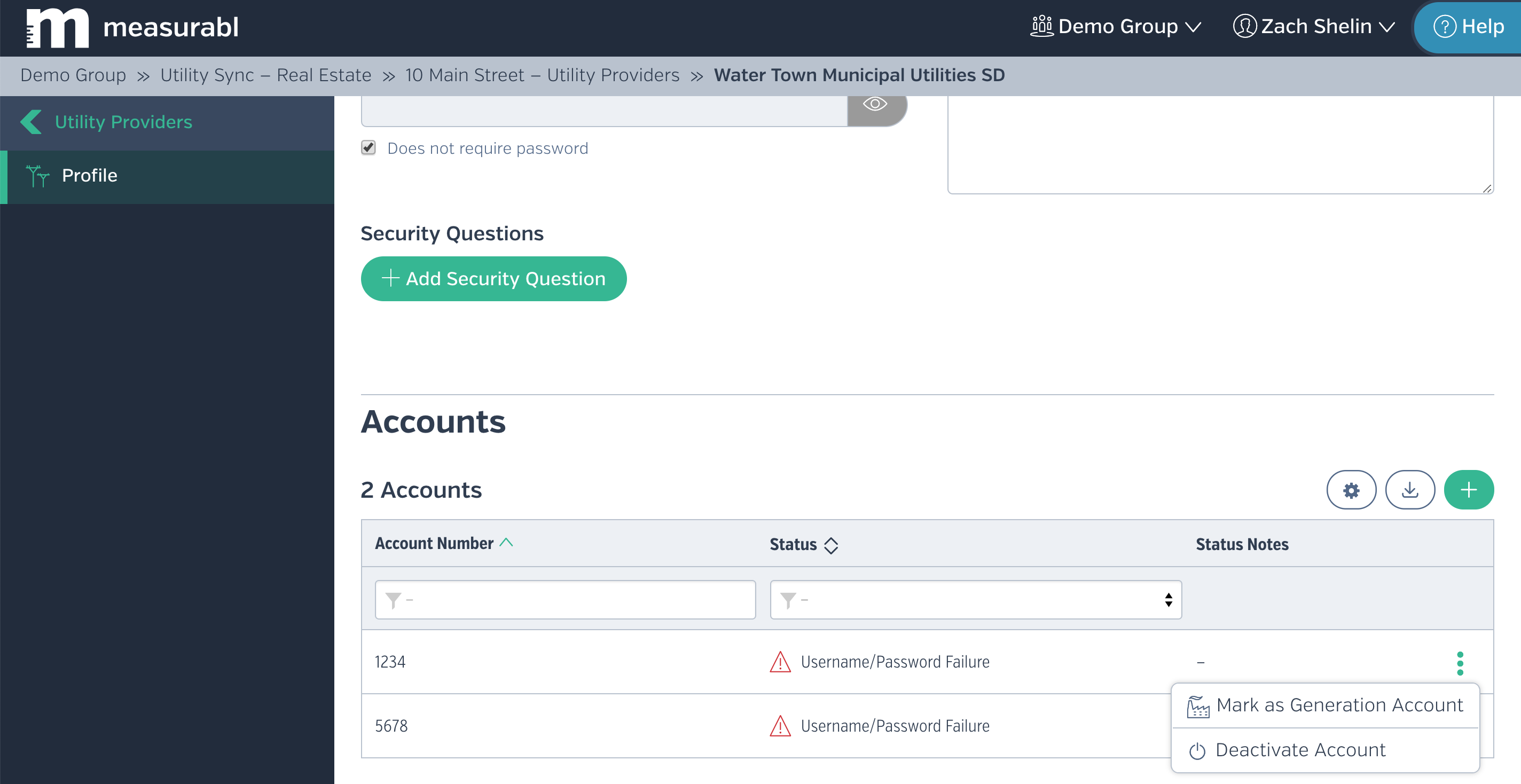 My utility accounts in Measurabl were transferred to the current tenants and I no longer have access. What do I do?
Add these notes in the "Notes for Measurabl" text box for the utility provider. Measurabl will make note that we will no longer be able to pull in utility data with that login information until the tenant moves out again.
Have a different question?
Measurabl is here for you every step of the way! Please reach out to our support team.